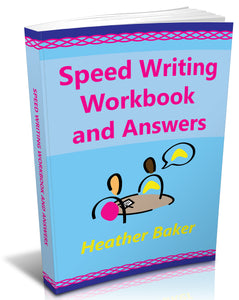 Speed Writing Book free resources including the audios
Speed Writing Free Resources including the audios for the book by Heather Baker
This zip file is the free resource to go with the book speed writing by Heather Baker.  Please complete checkout above to download it. 
To get the free resources please use the checkout above if you would like to buy the ebook as a PDF ($6.99) please use this link.

To buy the paper version please visit Amazon.
Use the checkout to download all the free audio files, workbook and short dictionary for the book Speed Writing by Heather Baker (all editions) as a zip file .
Each hour has a recording to go with it. We are thankful to Ailsa Baker for recording these for us. You'll need to use the book to practise each session and then you can use these dictations to help get used to using the speed writing system for dictation. All the full texts and suggested answers are in the back of the workbook you can download for free above. 
---
We Also Recommend