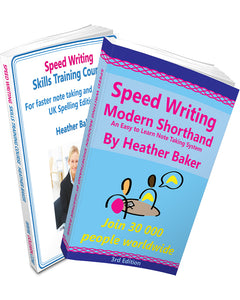 Praise for Speed Writing by Heather Baker
---
This article is related to the book Speed Writing - Modern Shorthand. 

To buy the paper version please visit Amazon.
If you would like to buy the ebook as a PDF ($6.99) please use this link.
Praise for Speed Writing and Heather Baker
Heather is available to provide on site training sessions on speed writing and many other topics for your company, email Support@uiolearn.com and we'll forward any messages.
"

Easy and straightforward to learn from this book. Would recommend the speed writing dictionary to accompany it.

" 
"I attempted to learn shorthand in college many years ago - and failed miserably! When I heard about speedwriting I decided I would 'give it ago', as being able to take notes at speed would be very useful in my work. I'm so pleased I bought the book - the method is very easy to use and intuitive, and the book is divided into manageable chunks of learning and practise (which is aided by the free workbook and dictation exercises available from the UoL website).
Speedwriting is very easy to learn as long as you put in the practice, and I particularly like that you can adapt it to your own individual requirements."
"BakerWrite really cuts the mustard. Also, it is so, so, so easy to learn. For most of us it is all we shall ever need. Lots of us would find it useful:
students, researchers, academics
anyone in a commercial office
anyone who regularly drafts letters or reports
professionals such as engineers, lawyers, doctors, nurses
anyone who regularly attends meetings or conferences
etc
Speedwriting is faster than longhand. The second virtue is worth considering too: it lets you reduce your 'writing miles' by more than 50 percent. Imagine Friday afternoon at the end of a really busy week, which has been jam-packed with lectures or meetings. You have made your notes using less than a half of the writing you would have required when using longhand. Imagine your satisfaction! Because your hand does not need to write so quickly (when compared to longhand) you can lay down a neater copy as well.
So, speedwriting gives you wings and it lightens your load. Because of its simplicity and serviceability BakerWrite is one of the best systems you will find. Highly recommended."
"This was the best course I have ever attended."
"I learnt a lot and will be able to put it into practice straightaway."
"The principles are very easy to follow, and I am already using it to take notes."
"BakerWrite is the easiest shorthand system I have come across. Having studied all the major shorthand systems and even other speed writing courses,
I find BakerWrite a sheer delight."
"I feel that BakerWrite could be a complete shorthand system." Robbie, Glasgow
"Your system is so easy to learn and use." Dawn, London
"I like the way the book is easy to carry around and it's so simple to understand." Sue, Manchester
"The best things about this event were the enthusiasm of the teacher, the fact it was interactive and the helpful information. It was an excellent course; clear, concise and
really enjoyable and I would recommend it to others. This course could not be improved, it was brill!" University of Salford
"The speed writing trainer was informative, relaxed and helpful. Excellent. She was very helpful, enthusiastic and approachable. She made the topic more fun and less scary. All the examples really helped and brought it to life." The Jockey Club
"The tutor was excellent – a thoroughly enjoyable day." The Jockey Club
"I will recommend this course to everyone who takes notes."
"Excellent course, well delivered – lots learned."
"I thoroughly enjoyed the course."
"My expectations were exceeded with this course."
"Heather you are very helpful and supportive – excellent course."
"Trainer was very helpful, friendly and informative and also very encouraging."
"Heather had a way of relaxing/de-stressing all which enabled people to keep going and take it all in."
"Tutor was very helpful and able to answer all questions.
It was good having the person who invented the system to do the course."
"Heather was patient and was more than able to answer our questions."
"Heather is very friendly and the course was presented in an easy to understand way and at a good pace."

"I liked the trainer's straightforward way of explaining the
subject matter with the practical sessions."

"Heather took the necessary time to answer questions and to ensure the group was happy and comfortable."
"I will use this system all the time."
"Used daily this system could have a major impact."
"The training was exceptionally well delivered. Heather was extremely helpful, patient and good humoured, even when being tested by some of the group!!"
"A wonderful day – thank you v much."