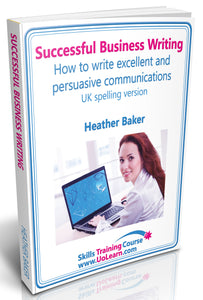 Successful Business Writing
Successful Business Writing
If you'd like the pdf printable version please just use our checkout above.
If you'd like an epub version just email us at
support@uolearn.com
after purchase and we'll send it to you (UK office hours). 
To buy the paper version please visit Amazon.
Download the workbook for the book (book must be purchased separately).
 About the author Heather Baker
Successful Business Writing Book
Dramatic changes in technology in the workplace mean we write so much more than we used to. It is vital to be able to express ourselves in a professional manner. This book enables you to plan, prepare and express your thoughts in a clear and persuasive way.
Achieve improved results through thinking about the purpose of the communication
Get what you need by identifying the background and needs of your reader
Create successful text for emails, letters, minutes, reports, brochures, websites, tenders and social media
Ensure your organization's good image through knowledge of proofreading
Gain techniques to prepare thoroughly
Write effective communications that persuade people
Give excellent impressions with well formatted documents
Avoid common mistakes of business writing
Exercises to help you improve your writing skills
Sample letters and emails
Know how to write good English and correct grammar
Achieve success through excellent written communication.
What do people think of the successful business writing course?

"I've learned such a lot from the course. I take a bit longer over everything I write now, but it is amazing the difference if you change the 'tone' of the message."

"This course has given me a boost of confidence; especially when drafting letters."

"I feel a lot more confident about using punctuation."

"I found the course interesting."

"It is fantastic and has helped me to improve my writing skills."

"Extremely informative."
---
We Also Recommend