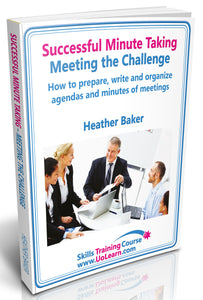 Successful minute taking – meeting the challenge
Successful minute taking – meeting the challenge.  
If you'd like the pdf printable version please just use our checkout above.
If you'd like an epub version just email us at
support@uolearn.com
after purchase and we'll send it to you (UK office hours). 
To buy the paper version please visit Amazon.
Download the workbook for the book (book must be purchased separately).
 About the author Heather Baker
For many people taking minutes is one of the most scariest things they are asked to do. Heather overcame her fear and was an extremely successful PA to a managing director of a large TV production company (Granada) for many years. She left to become a trainer and share her knowledge with other people and has now written a book that encompasses all the skills you should need to write minutes. The book has lots of exercises and example minutes to help you really become CONFIDENT AT WRITING MINUTES.
AMAZON 10 top best selling book.*
"This is a superb book. I wish it had read it before I started organizing meetings, writing agendas and taking minutes years ago! It is full of really good tips and is very clear and easy to read. This will really help with coaching and mentoring junior members of staff."
***** Amazon 5 star review
Example minutes and agendas
Writing minutes and agendas of meetings
How to develop your skills in note taking
Becoming more confident in your role
A checklist of what to do before, during and after the meeting
Help with layout and writing skills
Learn what to include in minutes
Understand how to become a better listener
How to work well with your chairperson
Lots of exercises and easy to read
Free downloadable workbook
The book covers all the things that might worry you if you have to take minutes. These are based on the things that worried Heather and that have worried her hundreds of delegates over the last 10 years.
What do people think of this minute taking training?
"I had a real phobia about minute taking but you've really taken away my fear. It's all fallen into place."
"I'm fairly comfortable with taking minutes, but find I write
a lot of notes in the meeting which probably aren't necessary.
I've learnt how to condense effectively."
"I enjoyed the course and found it relevant to my needs."
"I found the course really useful and very easy to understand."
---
We Also Recommend